Office Impressions
We only employ people with the right attitude
Office Impressions: Choose Us
Why choose Office Impressions?
Office Impressions was founded on three important principles
Technical excellence, outstanding service and independent advice– and these are as important to us today as they were when we started in 2004.
TECHNICAL EXPERTISE
Our technical team is amongst the best in the industry
While our engineers can service and maintain general office multi-functional devices, their real strengths lie in their skills in servicing and rectifying issues with production printers.

Our technical team is amongst the best in the industry – they're experienced, have high levels of both manufacturer and (CompTIA) accreditation and we train them thoroughly in specialist high-volume, technologically advanced digital printing equipment. In fact, their skills and knowledge are often commented upon both by our customers and the manufacturers themselves.

Not only are our engineers incredibly capable, they're also incredibly helpful - we only employ people with the right attitude, who take pride in what they do and who take ownership of their clients' expectations. Each of our engineers develops strong working relationships with their clients and strives to go the extra mile for them.

Office Impressions have been approved to sell and service Konica Minolta, Xerox, KIP and Ricoh production printers by the manufacturers themselves. To achieve this accreditation we have to prove – on an ongoing basis – that we have the technical expertise to service their machines.
Exceptional service
Many companies can supply a production printer but at Office Impressions our customer service sets us apart.
Speed
We recognise the importance of our clients' digital printing machines in the running of their business and so we pride ourselves on fast solutions - whether it's advice over the phone, remote access dial-in to diagnose an issue, or getting on site quickly with the right spare part.
Personal
Everyone in our organisation is easily accessible, from the owner to the engineers. There are no frustrating call centres to deal with – we're all friendly, knowledgeable and keen to help.
Tailor-made
We take the time to understand our customers' needs and challenges – this ensures we can provide bespoke product, software and service solutions to meet an organisation's specific requirements.
Client focused
We do our utmost to fulfil our client's requirements, taking into account their objectives and their budget. We'll do whatever we can to help and offer practical advice and support – we'll service a production printer until it becomes uneconomical, rather than just encouraging them to invest in a new machine.
We know the industry and our products inside out and we are always available for advice on any aspect of digital print machines - from running costs, upgrades and servicing to software and finishing equipment … whatever you need to know, we have the answer.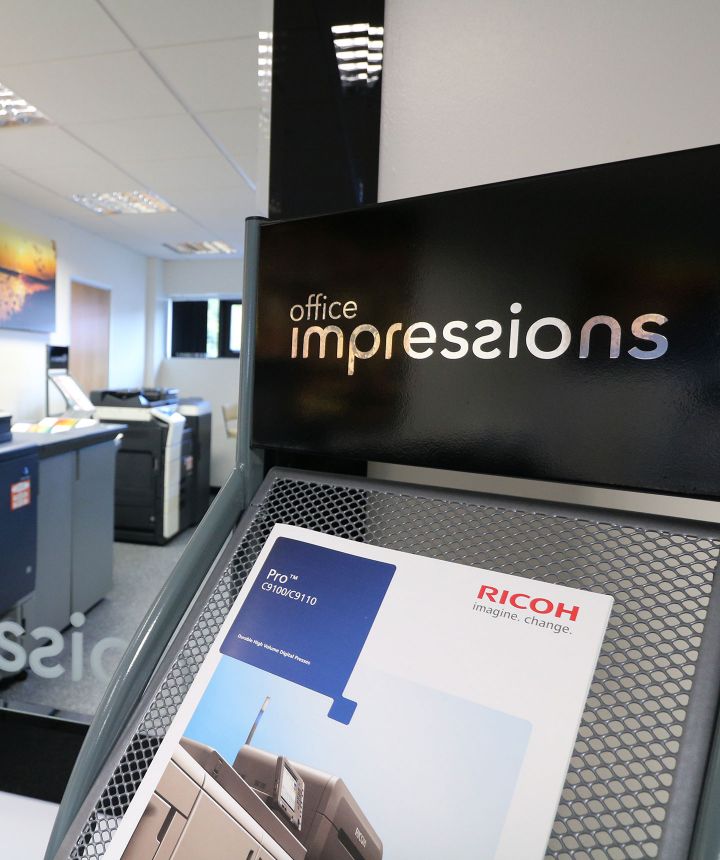 OFFICE IMPRESSIONS
Independent Solutions
At Office Impressions we're accredited by the leading manufacturers
Konica Minolta, Ricoh, Xerox and KIP but we're not tied to these companies and so can sell and service the majority of office and production printers.

For those clients who know exactly what they want, we can supply the relevant digital press, software and finishing equipment - and then set up a bespoke service contact to keep the equipment in full working order.

For those who know what they want their printing equipment to deliver but aren't sure of the best way of achieving it, we're on hand to help. We offer completely impartial advice and so can advise the best manufacturer, products and software to get the job done, reliably and cost-effectively.